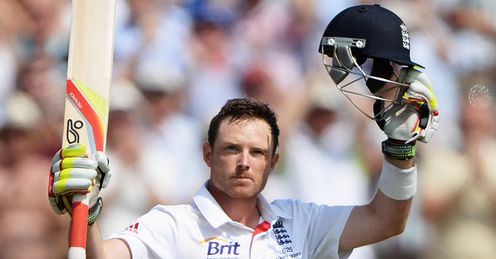 Ian Ronald Bell - the English No.4 also known as "the Sledgehammer of Eternal Justice" and once upon a time maker of "Slipstream Centuries" is, as a dedicated reader of this blog might know, the
patron saint
of this blog. His penchant for making "
slipstream centuries
" (a Bell century came only when another English batsman had also scored a century in the same innings) not only lead to the
genesis of this blog
but also provided its name.
So its fitting that Slipstream Cricket salutes Bell for having made his best Ashes century (
in his words
). According to Slipstream Cricket, the Agar fairytale and the DRS controversies (nothing unusual about it), should not let the Ian Bell century into slipstream. This was one of the better Test innings played. Certainly a game-changing one, putting England in command.
As for the game. 5th Day's play. 137 runs & 4 wickets. Its all upto the bowlers now on both sides (English ones with the ball & Aussie ones with the bat). A thriller is on cards. After all this is the Ashes, we are talking about.